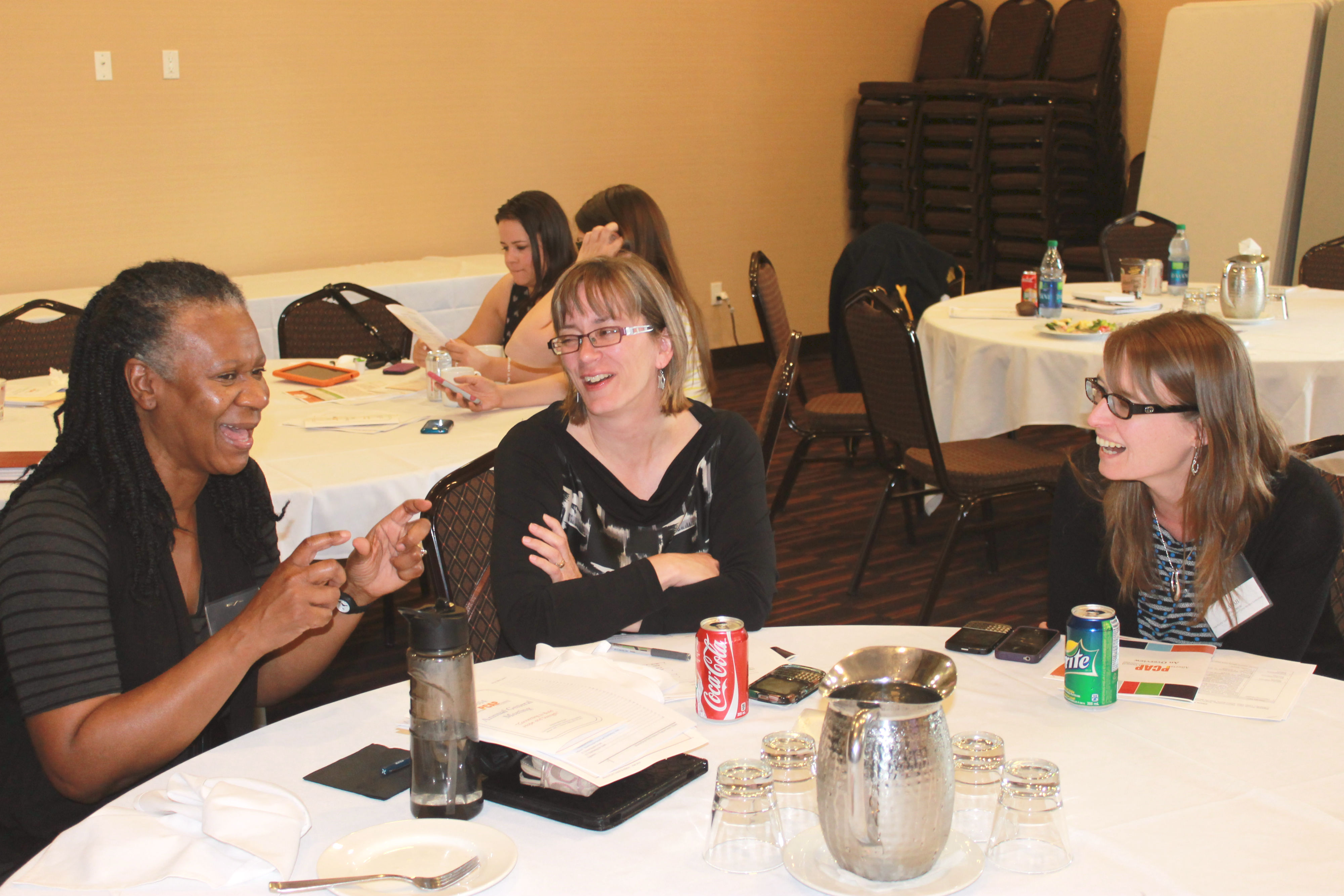 June 23-24, 2014 at the Four Points by Sheraton in Nisku, AB.
This year's theme was Connecting to Build Hope and Strength.
We were joined by Elder Beatrice Morin from the Enoch Cree Nation. Elder Beatrice opened our event with a prayer before sharing a bit of her journey. Sarah Parkinson spoke next with some greetings from the Fetal Alcohol Spectrum Disorder – Cross-Ministry Committee (FASD-CMC).
Co-Chair Tammi Crowley led our Business Meeting and introduced Provincial Coordinator, Kristin Bonot, to speak about the Alberta PCAP Council's accomplishments in the past year, and Quality Assurance Analyst, Kingsley Emelideme, to present some data from Penelope, the Alberta PCAP Council's outcomes tracking application.
After the Business Meeting, we had a special presentation from Wendy Edey, "The Hope Lady", on Audacious Hope, Practical  Perspectives, and the Power of Positive Mentorship. Wendy presented with a mixture of poetry and story-telling. She helped us examined what the "hope suckers" are in our life and how to maintain our hope in difficult times. 
After the end of the regular program, there was a Supervisor's Networking Evening, which included dinner and entertainment for our dedicated supervisors and network coordinators. 

AGM 2014 Attendees
Registration table
AGM 2014 Attendees
AGM 2014 Attendees
AGM 2014 Attendees
AGM 2014 Attendees
AGM 2014 Attendees
Several members of the Alberta PCAP Council
Presentation on Penelope from Quality Analyst, Kingsley
Guest Speaker, Michelle Hamilton
AGM 2014 Attendees
Guest Speaker, Wendy Edey
Annual Report from Provincial Coordinator, Kristin
AGM 2014 Attendees
Special Guest, Elder Beatrice Morin
Supervisor Networking Evening
Special Guest from the FASD-CMC, Sarah Parkinson
Supervisor Networking Evening
Special Guest, Angela Betts
AGM 2014 Attendees
Presentation on Financials from Banker, Linda
Supervisor Networking Evening
Day 2 was dedicated to building strength, with a full day workshop with Michelle Hamilton from Beyond Balance entitled "Compassion Fatigue: What Helpers Need to Know". Michelle gave us insight into her personal journey in the helping profession and provided us with tools to recognize our anxiety and stressors.

We ended our program with a beautiful song performed by PCAP Mentor and Council Board Director, Janice Randhille. Elder Beatrice helped us close our event with a final prayer.