Alerts are set up to remind you whenever a client's service file ages approximately 6 months (182 days). The 182 days is based on the service file start date. Both the primary worker, and the site supervisor will receive the alert.
The alert will appear regardless of whether you have already entered a biannual for that 6-month period. If you have recently entered a client that has been in PCAP for longer than 6 months, you may receive multiple alerts indicating the service file age. (ex. You may receive both the 6-month and 12-month alert if the client has been in the program for a year already)
The alert will appear on your home page under "My Tasks".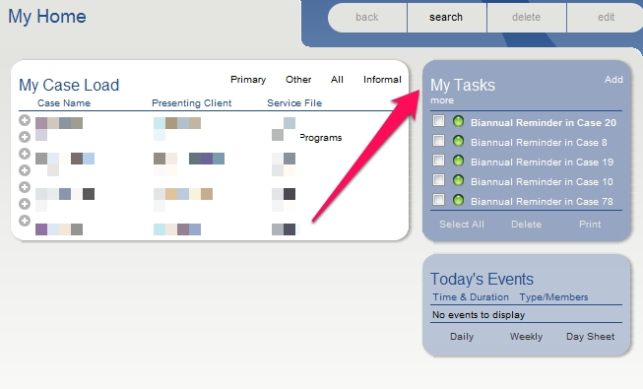 To view the alert, click on the link. It will take you to a page with further description:
Click "edit" in the top right-hand navigation bar to change
the due date
whether the task is completed or not (select the checkbox to indicate if the task is complete)
the priority of the task
the description of the task
To clear the individual task/alert, you can click "delete" in the top right-hand navigation bar.
If you have many clients, sometimes there will be more alerts than initially visible on your home page. Click "more" (underneath "My Tasks") to see more alerts. You can also delete all the alerts at once, when you are done with them. Click "select all" at the bottom of the "My Tasks" menu, so that a check-mark appears in all the boxes. Then click "Delete".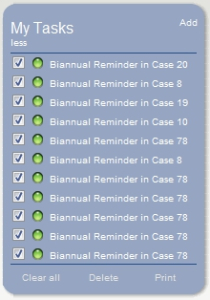 You can print a summary of your alerts by clicking "Print" at the bottom of the "My Tasks" box. A separate window will appear with a printable version of the list. Hit "Ctrl" + "p" on your keyboard to print the window.
Quick conversion chart
182 days = 6 months
364 days = 12 months
546 days = 18 months
728 days = 24 months
910 days = 30 months
1092 days = 36 months